JOEY SCOUT MOB ANNUAL REPORT 15 JULY 2018
---
YOUTH PROGRAM LEADERS:
Brett "Cockatoo" Discher
LEADERS:
Sonia "Keego" Grigg has recently stepped down as Joey Leader after many years of service to the Mob. Sonia is now focusing on her role as Cub Section Leader.
PROGRAM: Each term Joeys work on their participation badges, Environment, Caring and Sharing, Adventure and Buddy Badge.
HIGHLIGHTS:
Term 3, 2017 – Kennedy Region Camp was held at the end of July with a theme of "Game On." In preparations leading up to the camp, Joeys enjoyed painting a giant recreation of a monopoly board "Pimonolopy" which became the gateway to the Pimlico Mundingburra Camp. This won Pimlico Mundingburra the 'best Gateway' as voted by other region groups. Joeys learned
the importance of being involved in their community by helping clean up the festival site after the Townsville Cultural Fest in August. At the end of August we travelled to Alva Beach near Ayr for
the Joey Mob Holiday. Joeys really enjoyed mixing with other Joeys from the region and making box cars to 'drive' to the movies that night. We invited Dads to Fathers Night at the Den. They
helped us with hammers and nails and we presented them with gifts.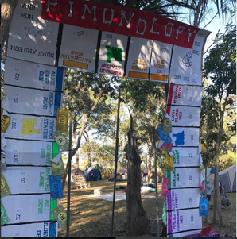 REGION CAMP GATEWAY
Term 4, 2017 – We participated in "the Great Aussie Bird Count". Joeys spotted a 'strange bird in the tree!' It wasn't a cockatoo and at first we could hear it but couldn't see it. We celebrated
halloween with a dress up ball at the den. A favourite was the 'eye ball soup'. We buddied with Charters Towers group and visited them for a sleep over at their den in November. They showed us
how to mine for gold and took us on a treasure hunt all over town. For our break up we participated in the World Scout Ten Pin Bowling Competition 'Jambowlree' at Kirwan Tenpin. Joeys really
enjoyed a ride on the dodgem cars after the bowling was done.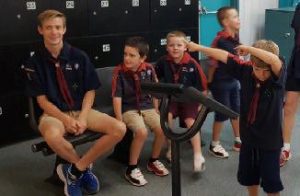 FLASH BOWLING
Term 1, 2018 – This term we looked after our environment. We worked with Landcare to clean up a site near JCU on Clean Up Australia Day. Landcare were so impressed with the Joeys
enthusiasm, we helped them revegetate the creek between JCU and the hospital. Joeys also had and excursion to Rowes Bay and learned about the natural habitat of the mudflats. The highlight of this term was the annual 'Toad Camp'. It was very wet but the Joeys loved catching the toads in the rainy weather.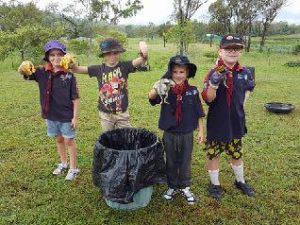 JOEY TOAD CAMP
Term 2, 2018 – We invited our mums, grandmothers and Aunts to a night at the den. We had mums swapping dressing gowns with their Joeys in a relay race, Joeys guessing mums age and lots
of laughs and love. At the beginning of June, we traveled to Ingham for the bi-annual Cu-Jo Games. Our Joeys were surprised to learn they were age champions in the running races. Everyone
was well behaved and really enjoyed mixing with other Joeys and Cubs from the Kennedy and Far Northern Regions at a disco before bed. We sat down and wrote our Mob Code which is proudly
displayed on the wall in the den. On the last week of term, Joeys participated in a 'Wet Weather' campfire night. There were songs, skits and lots of magic which the Joeys really enjoyed as for
many it was their first ever scout campfire.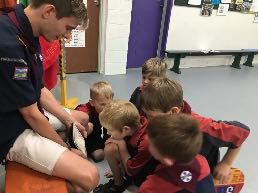 WRITING THE MOB CODE
PROMISE CHALLENGE BADGE:
The Promise Challenge badge is the first badge that a Joey Scout earns as an individual. Congratulations to Erik Spalding- Black who completed his Promise Challenge.
Brett Discher – JSL