Uniform
---
Uniform
The new Scouts Australia uniform is now available for Youth Members and Leaders.
The core uniform is a dark blue shirt with the relevant youth section colour (see below) across the sleeves, yoke and collar; a blue or moss-green belt and a scarf and woggle.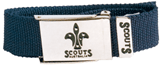 Scouts may wear neat attire of their choice below the waist, although some groups or Branches may specify a style to be worn by their Members.
Headwear will also be appropriate for the occasion and will be determined by the State Branch the Scout belongs to.


This is an approach also used by a number of European Scout organisations.






Shirt design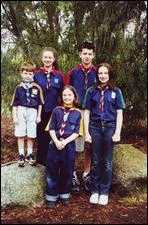 The shirt is a dark blue shirt with a collar, yoke and sleeve in the following colours depending on the section of the Youth Member:
Tan for Joey Scouts
Yellow for Cub Scouts
Green for Scouts
Maroon for Venturer Scouts
Red for Rovers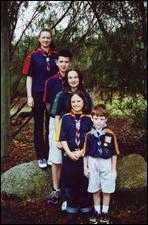 These colours are the official 'colours' for each youth section of Scouts Australia and appear on badges, publications and clothing for that section.
The colour for the Leaders' shirt is dark blue
Styles and Fabric
There are two fabrics and styles available for Scouts to choose from. The shirts are available in a good quality woven fabric button-up shirt style or as quality knitted cotton polo shirts. With the exception of Joey Scouts, who only wear the polo style shirts, either style can be worn and Scouts can choose the one they like best.
Purchase
Uniforms can be purchased from The Kennedy Region Scout Outdoor Centre which is co-located with Region Headquarters at
387 Charles Street, Kirwan.
Hours of Operation:
Thursday: 7:00 pm – 8:00 pm
Saturday: 9:00 am – 12:00 pm
Closed School and Public Holidays
Phone: 47734274
By buying the uniform through these stores you are helping Scouting across Australia.
Uniforms can also be bought through second hand clothing pools which many Groups and even some Branches run.
Note. When buying a uniform, you do not need to purchase any badges, as these are provided free of charge at the appropriate time by your Scout Group (covered by your subscriptions).
Badge placement
Badges will still be worn on the new uniforms, however, the number of badges worn on the front of the shirt has been minimised. For the badge placement on your son's or daughter's uniform click below.