How To Join
---
How to Join The Pimlico Mundingburra Scout Group
Its easy to become a Scout, Joey, Cub, Venturer, or Rover.
Simply make contact with our Group Leader at the number below.
| | | |
| --- | --- | --- |
| | e-mail | Phone |
| Group Leader | | |
| | | |
You will be invited to come along and try Scouting for three weeks with absolutely no obligation.
Your parents will have to fill out and sign the Registration Form during a short interview with the Group Leader or his assistant, prior to your first attendance. You can fill out the form below now, and submit to save some time.
During the three weeks you will:
Get to know the Leaders of the section
Meet the other youth members of the section.
You will be instructed on the Scout Promise and Law.
You can take part in some activities with the youth members.
You will find out how the section operates.
After three weeks, you will be ready to join as a new member of the Scout Movement.
Cubs are invested after completing the New Chum Program.
Scouts are invested after completing the Membership Qualifications
HOW DO I JOIN?
It is easy to become a Scout.
As a new Member to the Scout Movement,
once you have completed the requirements listed below,
you will be invested as a Scout, become a member of your Patrol
and be awarded the Membership Badge.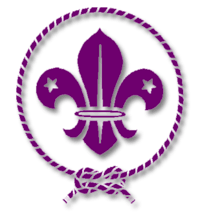 It is in fact the World Scout Badge